Manx firefighters 'beat ladder climb record'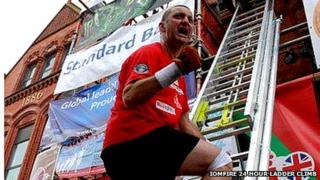 Ten firefighters in the Isle of Man have succeeded in their world record attempt for climbing the greatest distance up a ladder in 24-hours.
They toppled the previous record held by firefighters in New Zealand who managed to climb a 10m ladder 10,959 times in Auckland in 2005.
The Manx firefighters passed the New Zealanders' total just after 14:10 BST, finishing at 15:00 with 11,417 climbs.
The record is pending official approval from the Guinness Book of Records.
The Isle of Man team last held the record in 1998.
'Can't stop crying'
Their record climb this time saw them climb 114.6km (71.6 miles) - the equivalent of scaling Everest almost 13 times.
Team captain Gary Kirby said it was a proud achievement by the team which had left him overwhelmed.
"I can't stop crying to be honest," he said.
"It was pretty tough in the middle of the night but the support from the crowd was terrific.
"I've just realised what a massive achievement it is. Twelve different brigades from around the world have tried to break the record and failed.
"It's put Isle of Man Fire & Rescue on the map."
Five Isle of Man charities: Rebecca's House children's hospice; Craig's Heartstrong Foundation; Manx Hyperbaric Chamber; Pumps 4 Kids and The Isle of Man Firefighters Charity will benefit from the ladder climb along with Help For Heroes.