Refunds offered to weather-hit festival-goers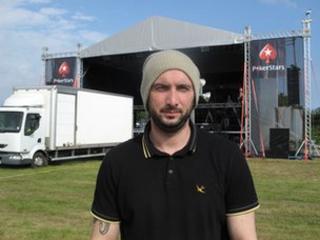 Festival-goers will be offered a refund after the opening night of an Isle of Man music festival was cancelled due to high-winds, organisers have said.
More than 2,000 people were expected on the opening night to see headline acts including Newton Faulkner, but the site had to be closed.
Organiser Conrad Roberts, 32 said: "It was a tough decision to make but safety is paramount and it had to be made."
The festival continued as planned on Saturday with thousands attending.
Mr Roberts continued: "It was freakish weather on Friday night, which we simply could not have planned for.
'Quick decision'
"We took advice from all the emergency services and made a quick decision. It was heartbreaking after all the hard work that has gone into the festival.
"The ground was so wet that we couldn't get some of the children's entertainment onto the site but it was the high winds that were the main issue."
The organisers are offering a full refund to those who only attended the two-day festival on Friday with others choosing to return for free the following day.
The festival continued in bright sunshine on Saturday with more than 2,500 people watching acts including Leddra Chapman, James Walsh and the Charlatans.
A number of local bands performed throughout the festival.
Mr Conrad added: "Despite the circumstances we really feel like it was a big success. Yes we had problems but we took the right decisions. We have always said we wanted to deliver a festival which supports local talent and grows organically and we will continue next year and learn from this one."
Any money raised by the festival, now in its third year, will be divided between local charities.
The festival, now in its third year, is run by two policemen.