Olympic torch: 'Inspiring' Isle of Man teen to carry flame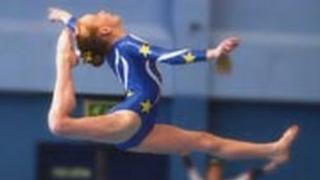 A teenager selected to carry the Olympic torch in the Isle of Man has been described as an "inspirational role model" for other youngsters.
Emily Dale-Beeton, 13, from Peel in the west of the island, is a gymnast and trains for more than 18 hours a week.
She will carry the torch when it arrives on 2 June.
Her mother Colleen said: "I nominated Emily because I think, as an Olympic role model, she has got what it takes."
She added: "I see how much she puts into her training and how hard she works.
"She misses out on parties, she misses out on being with her friends, she misses out on so much to be able to train and compete."
'Make it happen'
Emily, who has been training as a gymnast since she was six years old, is aiming for the top.
"I want to make it to the Olympics and I look forward to it every single day," she said.
"I watch loads of it on the telly and I really want to be there, I just need to figure out how to make it happen now."
The teenager has represented the Isle of Man at a number of national events and recently became the youngest competitor at the 2011 Commonwealth Youth Games.
She is expected to carry the Olympic flame on Peel Road in Douglas at about 11:00 BST.
The torch will arrive at Ronaldsway airport from Liverpool on 2 June at 09:40 BST before it travels around the island.
During its visit, the torch will be carried through Douglas, Onchan, Ballasalla, Castletown and Laxey.
It will return to Ronaldsway at 15:55 before flying to Belfast.