Isle of Man: Seven beaches fail guide's standards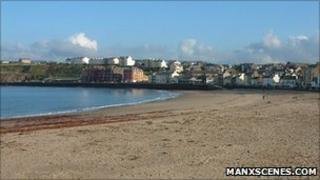 Seven of the 20 Manx beaches tested in this year's Good Beach Guide have failed to meet environmental standards.
The guide shows that most of the failed areas, including Douglas, Port St Mary and Ramsey, have local sewage outflows.
Castletown and Derbyhaven are the only two beaches given a recommendation by the Marine Conservation Society (MCS).
Douglas Beach by Summerhill, Fenella, Kirk Michael, Laxey, Peel and Port St Mary all achieved mandatory levels of water cleanliness.
The results of the latest guide, based on testing carried out last summer, show heavy rains are washing raw sewage from overflow pipes and pollution from towns and rural areas to bathing areas.
More measurements will be taken this summer under new, more stringent European Union water quality rules which come in in 2015.
Plans are in place to improve the island's sewage network.
The first phase of work is due to get under way in the next four years.
It will cost £40m and will bring new sewage treatment plants to Glen Mona, Dalby, Maughold Village, Port Lewaigue, Glen Maye and Corony.
Phase two, which would provide sewage treatment facilities at Peel, Laxey, Baldrine, Sulby and Ballaugh, currently has no estimated cost.