Leading stunt riders confirmed for Royal Manx Show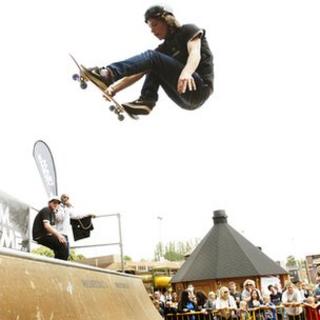 Some of the world's leading BMX riders, skateboarders and inline skaters will perform at this year's Royal Manx Show, organisers have confirmed.
The UK-based Team Extreme will deliver eight performances over the two-day show, featuring a variety of ramp tricks and stunts.
In between each display the team will be holding coaching sessions.
The annual agricultural show will take place at Knockaloe Farm on 10 and 11 August.
'Learn some new tricks'
Director of Team Extreme, Neil Danns, said his team "includes many world class performers".
Mr Danns, who has won several European and British skateboarding titles, said: "It will a unique opportunity for the Manx public to see the team in action.
"There will be plenty of opportunities for spectators to get involved too and they can bring along their own skateboards, roller skates and inline skates if they want to learn some new tricks."
The actual line-up will be confirmed by the event's sponsor Manx Telecom nearer to the event but could include the UK's number one BMX rider Mark Webb and X-Games winner Sam Bosworth.
This year's Royal Show will incorporate more than 140 stands on the 19 acre site.