Contents for sale at Manx millionaire's former home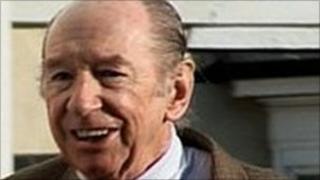 The contents of Africa House, the former home of jailed Manx millionaire Trevor Baines, are to be auctioned.
The auction, which takes place on 5 August, comprises of furniture, model trains and a baby grand piano.
Businessman Trevor Baines, 71, from Douglas, was convicted of money laundering in October 2009 after a five-week trial.
The contents of Africa House on Woodbourne Road have been put up for sale by the Isle of Man coroner.
The coroner is the government-appointed bailiff in the Isle of Man and it is thought the sale will contribute to clearing Mr Baine's debts.
In February 2011 Baines's wife Wendy, 52, was sentenced to 18 months in prison for stealing £400,000.
Her conviction stems back to the money laundering trial in 2009 when Trevor Baines was jailed for six years.
Africa House was recently on the market for almost £2.5m.
Baines's fortune was amassed mainly from his property empire, but he is also understood to have been one of the early investors in the Miss World franchise.