Plan to spend £10m on Douglas Promenade improvements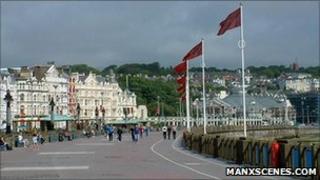 The Isle of Man government has provisionally agreed to spend £10m over the next four years to improve Douglas promenade.
A government survey showed that nearly 60% of people who responded thought its appearance was sub-standard.
Improvements being considered include moving the horse trams to one side of the road and making them single track.
Infrastructure Minister Phil Gawne said the improvement project had received overwhelming public support.
He added: "The next step will be to prepare some detailed plans and we will invite further comment on those before proceeding."
It is thought the department will look at ways to improve facilities to encourage residents and tourists to use the promenade more.
The issue of parking will be addressed, as will the possibility of introducing commuter opportunities with the Manx Electric Railway.