Herm lease deadlock rumbles on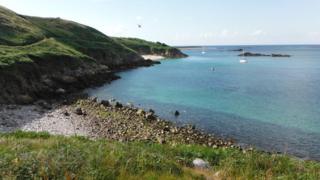 The leaseholders of Herm and the Guernsey States department responsible for the island are at loggerheads over extending the island's lease.
Jonathan Watson, Herm's Director of Hospitality, says Treasury and Resources have not had any further meetings with them to discuss unresolved issues.
The standoff began in 2013.
The leaseholders wanted a 21-year extension on top of the remaining 34 years.
Herm is 1.5 miles long and is part of the Bailiwick of Guernsey.
Guernsey officials say extending the lease would cost £2.5m and the leaseholder would have to make infrastructure improvements within five years.
Herm Island Limited says it will not invest in infrastructure until Treasury and Resources negotiates over the terms.
Treasury and Resources said the issue was dormant and discussions regarding the extension were "commercially sensitive".