Guernsey States structure change wins approval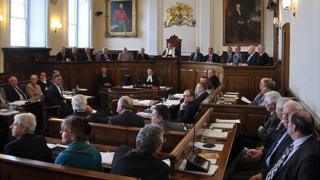 The creation of a streamlined committee system to run Guernsey's government has been backed by politicians.
The creation of nine committees including a senior one controlling policy and finance was suggested by the States Review Committee.
Details of the changes to government will be worked out before the issue is debated again early next year.
Vice chairman Matt Fallaize said having the power in one place would improve the decision making process.
Currently the roles of finance and policy are split between the Treasury and Resources Department and the Policy Council, which is made up of all the heads of departments and the chief minister.
Scrutiny scrutinised
Deputy Fallaize said: "The Policy Council is not set up to be a senior cohesive committee... it wasn't set up to do the job we expect of it."
Politicians also agreed to a review of scrutiny, including the extent of powers held by political scrutineers in the island, before the changes in government come into effect, which is expected to be in 2016.
Discussions including the titles of the various committee presidents and a reduction in the number of States members, currently 47, did not lead to any firm proposals, but may form part of the next debate.
When he summed up Deputy Fallaize said the title of minister, which is used in the current committee system, could be confusing as to the extent of powers the individual holds, but was useful when dealing with off island powers.