Ancient Guernsey fief courts meet in island first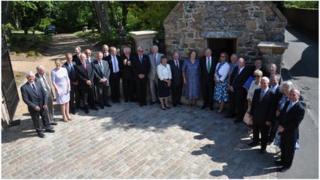 Two Guernsey courts have met for what is believed to be the first time in history.
The courts of the Fief Le Comte and the Fief De Blanchelande are the only fief courts in the island that continue to meet.
Bailiff Sir Richard Collas, who is the Seigneur of the Fief De Blanchelande, suggested the joint meeting to "celebrate the island's heritage".
It follows the restoration of the Fief Le Comte court house.
The small oblong building is the only court house left in the island and sits at the entrance to the St George estate, in the Castel, whose owner is behind the restoration.
It has benches along each side with room for about a dozen people, a chair for the presiding officer and a table.
All that remains of the Fief de Blanchelande court house is a boundary wall of La Barbarie Hotel.
Seats of other smaller fiefs, which owing to their smaller size had stone benches cut into hedges rather than court houses, remain around the island.
The Fief Le Comte was established about 1025 and the Fief de Blanchelande about 1196. Each fief, which deals mostly with property transactions, still meets twice a year and annually respectively.
David Robilliard, who has positions in both fiefs, said: "There are still some minor practical applications in the fiefs, but the important thing is the maintenance of the traditions."
He said the other courts could still meet, but many were in abeyance.