Guernsey Airport aims to cut aircraft noise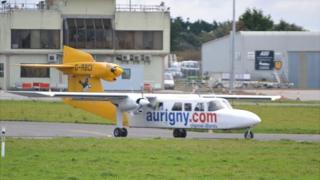 Pilots of light aircraft will be encouraged to vary their flight paths from Guernsey Airport in a bid to cut noise complaints.
There was a rise in complaints last summer after the runway was moved 120m (392ft) to the west as part of a £80m refurbishment project.
A spokesman for the airport said they could not find any operational changes that explained the increase in noise.
The change is due to be enforced by the end of the month.
The spokesman said the removal of trislanders from the services between Guernsey and Jersey services would have already reduced noise affecting people living on or close to the flight path.
'Disperse flights'
He said: "This will primarily affect private light aircraft, which are permitted to turn off the flight path over land earlier than other [planes].
"The procedure that allows this is being amended to encourage pilots to vary the point at which they make this manoeuvre, to disperse flights over a wider area.
"Other aircraft will follow the normal flight path, due east or west immediately after take-off, and turn towards their destination when they reach 1,500ft or are three miles from the airport."
If pilots do not comply with the new rules the airport could impose sanctions on them.