Guernsey birds: rescued from the storm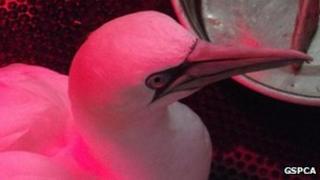 Birds have been the latest casualty of the bad weather, giving animal rescue service GSPCA its busiest new year.
The service has rescued 10 birds from the shores since 1 January, an increase of 300% on last year.
Geoff George, acting chief officer, said: "The stormy weather has led to casualties and we are expecting more problems as the weather gets worse."
The rescued birds included a cormorant, a kestrel, a snipe and a gannet named Balthazar.
All of the birds are currently under heat lamps or in intensive care units and GSPCA hopes to release them back into the wild as soon as the weather improves.