Guernsey school expansion project approved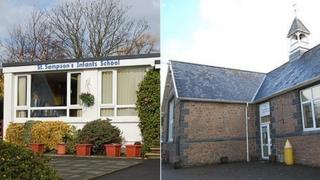 Work on the extension and alteration of the Vale Primary School is to begin early in the new year, according to the Education Department.
The school development was given planning permission following consultation with Environmental Health.
Three classes currently educated at St Sampson's Infants School will transfer to the expanded site in September.
Deputy Richard Conder from the education board said it was important things moved quickly.
The Education Department will close St Sampson's Infant School in 2014 and St Andrew's Primary School in 2015.
The Education Department suggested the closures as part of a move to create larger primary schools and save about £800,000 a year.
Deputy Conder said: "We are delighted that we have received planning permission and that work will start early in the New Year.
"We will do as much work as we can outside of the normal working day but some will have to take place during term time as it is critical it is completed by the start of the new school year."