Guernsey States to charge 4G mobile operators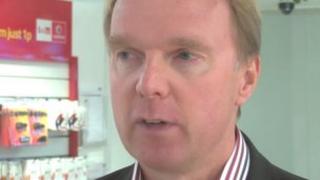 Mobile phone companies who want to offer a 4G internet service could have to pay Guernsey 2% of the money they make from it.
The Commerce and Employment Department wants to bring in charges for the use of the radio spectrum.
The Department is preparing a report for the States seeking approval for the legislation in early 2014.
The introduction of 4G was delayed in 2012 when Commerce and Employment asked for a review.
Deputy Kevin Stewart was made Commerce and Employment Minister in May 2012 and said he was concerned the island was planning to give telecoms companies access to a scarce resource, rather than charging for them.
He said the Channel Islands were the only places in the world not to be selling radio spectrum to operators wanting to offer new 4G access.
The States of Jersey said at the time making the new technology available was more important than making money from it.
Ian Campbell from Airtel Vodafone said the idea of being charged for spectrum was a shock at first.
If approved by the States, any company offering 4G services will pay from 2015. It was originally proposed that the rate would be at 5%.
Mr Campbell said: "If it is 5% or below we will just try and absorb it. It was a shock at first but we are used to the idea now."
He told BBC News the benefits of a 4G service, which allows for faster mobile internet access, made the charges worth it.
"People want to access the internet anytime, anyplace and anywhere and the introduction of 4G will enable them to do that," he said.