Guernsey aims to cash in on China's economic reform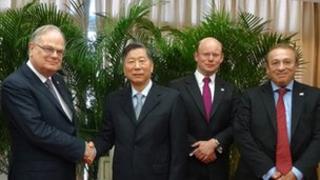 Chinese banks have been encouraged to set up operations in Guernsey.
A delegation from the island spent a week meeting government officials in Beijing and Shanghai.
Commerce and Employment Minister Kevin Stewart said they were hoping to benefit from "further opening up of the Chinese economic system".
The cost to the taxpayer was just over £7,000, said deputy Stewart. This was justified as Guernsey tried to compete with other financial markets, he said.
William Mason, the director general of the Guernsey Financial Services Commission (GFSC) signed a memorandum of understanding with the China Securities Regulatory Commission during the visit.
The delegation also met with Shang Fulin, the chairman of the China Banking Regulatory Commission, to encourage the country's banks to offer services to "wealthy individuals and families based globally".