Guernsey dog owners warned over 'substance' on beaches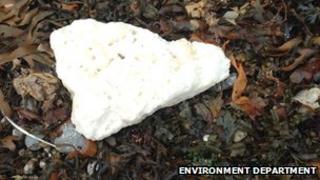 Dog owners are being warned to keep their pets clear of any white substances on Guernsey's beaches after palm oil was washed up on the coast.
An Environment Department spokesman said earlier "a white, waxy substance in a hard lump was found on Saints Bay". It has been removed for tests.
The warning follows the death of a dog in Cornwall after it ate palm oil.
The substance, which is not harmful to humans, has various uses including cosmetics, soap and biofuel.
Last week lumps of degraded palm oil were washed up on Cornish beaches and a similar substance was reported on Ouaisne Bay in Jersey.
The spokesman said the department and States Works would be monitoring beaches but asked anyone finding white deposits to leave them in place and contact the Environment Services Unit.