HMS Charybdis and Limbourne sinking 70th anniversary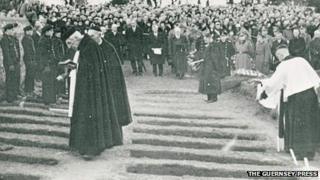 Hundreds of people have attended the 70th anniversary of the sinking of HMS Charybdis and Limbourne in 1943.
About 500 lives were lost when the Royal Navy warships were torpedoed by German T-boats in the English Channel.
Twenty-one bodies washed ashore in Guernsey and were buried with full military honours. Services have been held every year since 1947.
John Eskdale, 90, the last survivor to be rescued, said this would be his final trip to Guernsey.
"I'd like to say thank you to Guernsey for all they did in 1943 when we were washed ashore," he said.
"Thank you too for keeping the memory of Charybdis alive and, above all, thank you for being responsible for the association and the families getting together."
A 75-year-old woman from Cornwall whose father, Petty Officer Leslie Hearn, died on the Charybdis, attended the ceremony for the first time.
"Talking to the survivors about how they sailed from Drake's Island [in Plymouth] one day and were blown to bits the next has been very emotional," Val Gill said.
"They are a fabulous group of men - really remarkable."