No Battle of Britain memorial flight in Channel Islands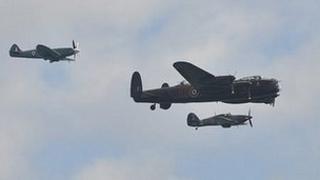 Poor weather in the UK has led to the cancellation of the Battle of Britain Memorial Flight in the Channel Islands.
The annual flight, consisting of a Lancaster, a Spitfire and a Hurricane, was due over Guernsey at 11:00 and over Jersey at 15:05 BST on Thursday.
In addition, the Sea King search and rescue helicopter, AWACs aircraft and a C 17 transporter have been removed from the Jersey programme.
A Catalina flying boat and an Aurigny Trislander will fly instead.
The Trislander, known as Joey after its aircraft registration, G JOEY, has been the subject of children's books and will take part ahead of its retirement from service next year.
The memorial flight aircraft are based at RAF Coningsby in Lincolnshire, where poor visibility and heavy rain are forecast for Thursday.
Organisers of the Guernsey Air Display said the three World War II aircraft were the only planes that would have to be removed from the programme.
The Red Arrows are scheduled to round off each island's display, flying over Guernsey at 12:53 and over Jersey at 16:24.