Sark Shipping starts new Guernsey to Alderney route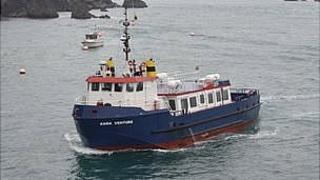 A weekly ferry service between Guernsey and Alderney is being launched by Isle of Sark Shipping.
The company is still finalising the details but hopes to begin operating the route in August.
The move has been criticised by Bumblebee Boat Cruises, which also operates the route, claiming there is not enough demand for more operators.
An Isle of Sark Shipping spokeswoman said the company was committed to offering the service all year round.
She said: "Guernsey does need an all-year-round service and we feel that we can provide that."
'Running empty'
When it launched in May 2012, Bumblebee was billed as a year-round service but stopped running its 12-seat boat from December until April due to a lack of demand.
Dan Meinke, owner of Bumblebee, said demand in the winter months "dropped off to almost nothing".
"We had to make a commercial decision that we couldn't keep running empty," he said.
Mr Meinke said the additional competition on the route "could thin the market to make it not viable for both operators to run - and leave Alderney with no service".
Isle of Sark Shipping, which is owned by the island of Sark, plans to start its service in August.
It will use the Sark Venture, which can carry 120 passengers but will operate the route with just 80 - the maximum amount that can be seated in the vessel.