Guernsey's slow broadband 'holding back teachers'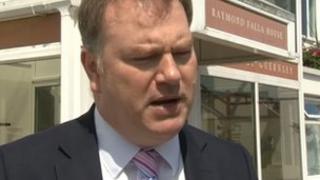 Slow internet speeds in Guernsey mean teachers are less likely to use the internet as a learning tool according to the Education Department.
Head of business and education systems, Barry Dickson, said the cost of bandwidth compares badly to the UK.
Business leaders have also complained about the cost and speed of broadband.
Eddie Saints, chief executive of phone operator Sure said they were waiting for the outcome of a review of speed and costs by the regulator.
Mr Dickson said: "Teachers in local schools are reluctant to use the internet as a learning tool because of slow speeds.
"The island's ability to produce a workforce fit for the 21st century is being threatened as a result."
Business disadvantaged
Guernsey Chamber of Commerce said local businesses were being disadvantaged by high bandwidth costs which are stunting industry growth.
Jay Aylmer, chairman of the chamber's creative industries sub-group said poor internet bandwidth was seeing local companies fall behind foreign competitors.
Mr Saints said: "While we respect their opinions, it must be made very clear that it is a fact that there are many other factors that influence a company's decision when considering relocating to Guernsey.
"We remain committed to doing what is right for the communities we serve and have always welcomed constructive guidance and examples of where we can do more to aid the economic and social development of the island."
The Channel Islands Competition and Regulatory Authority are reviewing the cost and speed of broadband in the island.
Regulator Andrew Riseley said: "The feedback from businesses so far is that price is important and change in needs is also important.
"We are going through responses now and the feedback is that businesses in other jurisdictions do have access to a better range of products."