Bus passenger numbers continue to fall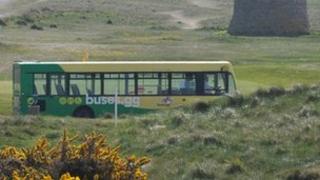 Passenger numbers on Guernsey's public buses have continued to fall.
Environment Department figures show numbers rose steadily from 2001 peeking at 1.64 million passengers in 2010.
They fell to 1.6 million in 2011 and 1.5 million in 2012. In the first six months of 2013 they were nearly 30,000 down on the same period in 2012.
CT Plus, which runs the service, carried 11,625 fewer passengers in June as drivers staged a one-day strike and a reduced timetable was introduced.
A second proposed strike in June was called off after progress in negotiations over working conditions and a lack of drivers.
Passenger numbers were also lower in January, February and March; the latter down nearly 18% on the same month in 2012.
The company has faced criticism following the introduction of an entirely new route and timetable system on 12 May.
Last week, CT Plus told the BBC it had turned a corner following the recruitment of eight locally-based trainee drivers, which it expected to be behind the wheel by September.