Aurigny rebrand idea dismissed by Guernsey States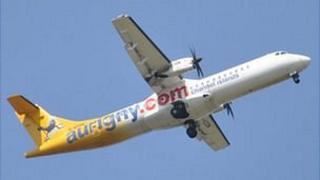 A move to rebrand the States-owned airline to boost Guernsey's profile has been sidelined following discussions between Aurigny and the government.
Last week Deputy Darren Duquemin suggested changing the name to something like Guernsey Air would promote the island better.
A spokesman for the Treasury and Resources Department said the airline had "other priorities" to focus on.
He said any decision on a name change would rest with the airline itself.
The department estimated the cost of a rebranding at £500,000.
'Flying billboards'
The spokesman said: "Aside from changing the liveries on existing aircraft, there would also be implications for staff uniforms, the design of the company's website and a host of other different advertising material and signage used by the airline."
Deputy Treasury and Resources Minister Jan Kuttelwascher said: "[Aurigny] is currently devoting its energy to planning a major expansion of its services on the Gatwick route and the acquisition of an additional aircraft to support that operation.
"It is also planning for the replacement of the ageing Trislander fleet.
"These are strategically important issues for both the airline and the Bailiwick... it is important that the airline remains focused on these in the immediate future."
The department's spokesman said it would be discussing some cheaper alternatives with the airline such as using planes as "logojets or flying billboards".
The airline was launched in 1968 and its name is the Norman word for the Channel Island of Alderney.
It was bought by the States in 2003 in a bid to secure the island's air links to London Gatwick.