Guernsey man and child hit by car on pier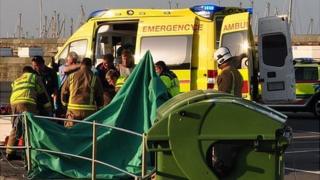 A man and a two-year-old boy have been injured after being hit by a car on Guernsey's Albert Pier.
The 30-year-old man suffered severe leg injuries and is being treated in hospital. The boy has been flown to the UK for treatment.
Ambulances, police and the fire service were called to the scene at about 19:30 BST on Saturday.
Part of the pier has been closed while police continue their investigations at the scene.