Sark dig reveals 3,000 years of sheep rearing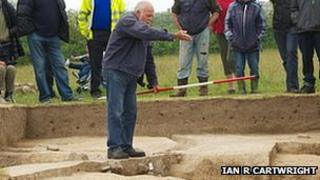 Sheep have been reared on Sark for thousands of years, according to an archaeological research team.
Excavations of an ancient settlement near the Sark Mill have revealed a number of spindle whorls, used for working wool.
Sir Barry Cunliffe, Emeritus Professor of European Archaeology at Oxford University, said a "surprising number" had been found at the site's edges.
"We can take sheep rearing back, now, to the second millennium BC," he said.
"People were living in the centre... and doing their spinning and their weaving and other industrial things around the limits of the site," he said.
Silver hoard
Sir Barry said the settlement, which has been explored every summer for nine years, had become very important for archaeology in the Channel Islands.
"It's a largish settlement that dates from about the Bronze Age - that's somewhere around 1500-1400BC - into the Iron Age - sometime around 500-400 BC," he said.
"That's about a thousand years of occupation on the one site."
He said no Bronze Age settlement in the archipelago had been subject to so much excavation and the nearest equivalent site was in Normandy.
Evidence of the settlement was first discovered when a farmer decided to divide a field in the 18th Century.
During this work, he found a hoard of silver coins and decorated silver discs, which subsequently disappeared.
"No one knows where they are but there are records of them and it's quite clear that this hoard was deposited some time in the 1st Century BC and was probably a votive hoard," Sir Barry told BBC Guernsey.
Rare amber
This hoard was buried in a very much earlier and very extensive prehistoric settlement.
This was most likely to have been populated by descendants of the first settlers of Sark, who arrived in about 6000-5000BC.
These would have been hunter-gatherers but Sir Barry said contact with the French mainland would have introduced farming to the island in about 4000BC.
"There's plenty of evidence that people lived on Sark from then onwards," he said.
The site, known as Tanquerel Fields, would have sustained a population of 100 or so and the team believes there are several similar sites still to be found around the island.
These village populations would have been involved in sea linked trade around the Bay of St Malo and along the Atlantic coast.
The latest excavations, completed earlier this month, also brought up four and a half beads from an amber necklace.
"Finding amber - which this time comes from Denmark - on a settlement site is very much a surprise," he said. "You occasionally find it in burials but not on a settlement."
Roman centre
The beads were found together in a pit and Sir Barry speculated the string of the necklace must have broken while its wearer was crossing the site.
"He or she was able, I suppose, to get some of them back but lost some - and there they were for us to find," he said.
The beads have been removed to the UK for laboratory research but it is hoped they will join items from past digs in an exhibition space run by La Societe Serquiaise, next to the island's information centre.
"Everything we find in Sark, stays in Sark," Sir Barry added.
To be discovered
The excavations were carried out by a team of nine, from Sark, Guernsey and Oxford University with others helping with washing, marking and bagging finds.
Sir Barry said the longevity of the project meant new sponsors had to be found and the current work was being funded by donations from Jersey and from Sark itself.
He said several more sites had already been identified by islander Andrew Prevel - "a very experienced field archaeologist" - and much more remained to be discovered.
During excavations in 2014, Sir Barry hopes to find the extent of the western boundary at Tanquerel Fields and the "Roman-period centre" of Sark.
Work will also continue at La Seigneurie, which should reveal what life in Sark was like during the Middle Ages.