Guernsey Brock statue sculptor to make Canada memorial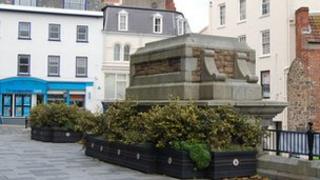 The artist commissioned to produce a statue of Guernsey hero Sir Isaac Brock has been chosen to produce a Canadian national memorial of the War of 1812.
Adrienne Alison described being chosen as "a great honour" but said it would not alter her timetable for completing the St Peter Port project.
Her proposed composition of seven figures will be erected on Parliament Hill in Canada's capital Ottawa.
Plans for Guernsey's Brock statue are to go on display on Tuesday evening.
Canadian statehood
The Brock Memorial Foundation, which commissioned the Brock statue, will be showing Ms Alison's bronze maquette at a presentation evening in the Inner Street of the market building from 19:30 BST.
This will give islanders a chance to see what the finished work will look like, if it is placed on the north plinth overlooking Town Church Square.
The foundation's spokesman, distant relative Oliver Brock, said earlier he expected the planning application to be submitted on Friday.
The statue project is being sponsored by RBC Wealth Management and the foundation will be announcing its fundraising programme at the event.
Mr Brock has estimated the total cost at £80,000.
It is one of three projects he has put in place to celebrate Major General Brock's contribution to paving the way for Canadian statehood by repelling American invasion during the War of 1812.
Pirates of the Caribbean
The Guernsey-born general's greatest victory was at the Battle of Detroit, for which he received his knighthood, but he is most associated in Canada with his heroic death at the Battle of Queenston Heights on 13 October 1812.
He later came to be known as The Saviour of Upper Canada.
The Ottawa monument, to be placed facing Canada's National War Memorial, is part of the Canadian government's efforts to mark the 200th anniversary of the War of 1812, which ended in 1815.
The National Capital Commission said the sculpture would "recognize the courage and bravery of those who successfully defended their land in the fight for Canada".
The unveiling is planned for autumn of next year.
Ms Alison said her work on the Brock statue was substantially complete, with only small alterations necessary from the maquette already provided.
"I only have to change a few things, such as the boots," she said.
"I'm working with Peter Twist and Robert Henderson - they did Pirates of the Caribbean - they're really, really knowledgeable about costume."
She said the Brock statue would be ready by autumn 2014.