Guernsey Kings Club redevelopment has been rejected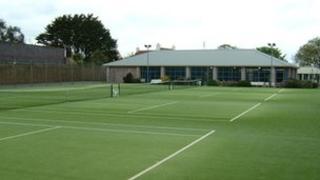 Plans to redevelop part of a Guernsey leisure centre have been rejected.
The owners had wanted to replace two tennis courts with 13 apartments at the Kings Club in St Peter Port.
The application had the backing of planning officials, but at an open meeting earlier deputies rejected the plans by three votes to two.
Owner the Long Port Group said it was disappointed but would not comment further until it had received the reasons for the decision in writing.
Deputies Roger Domaille, Yvonne Burford and Barry Brehaut voted against, while Deputies Tony Spruce and Barry Paint were in favour.
Missed opportunity
Environment Board member Tony Spruce said he thought the development should have been given the go ahead.
But Deputy Domaille said: "It was the overall proportion of the whole structure that caused me to vote against it to be honest."
Sports coach Gareth Coombes from Skillset, which is based at the club, said it was a missed opportunity.
He said: "It would have been really good for us to have some indoor tennis courts but unfortunately it is not going to happen now."
The club had hoped to raise half of the £10m redevelopment costs from the sale of the apartments.