Salerie Corner signage changed after cyclist's death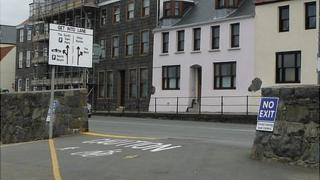 The death of a cyclist outside a Guernsey car park entrance and exit has highlighted problems with traffic signs in the area, say investigators.
David Allison, 59, died at Salerie Corner after suffering serious chest injuries in a collision on 26 April.
Traffic Sgt John Tostevin, who is leading the investigation, said concerns about the signage were raised with the Environment Department.
As a result it has replaced the previous signage and added new notices.
Sgt Tostevin said he and the department had come to the joint decision "the signage in the area needed some sort of change to make it clear what that exit was to be used for".
He said the investigation was continuing and he was getting expert advice from UK forces.
'Implying access'
A department spokesman said: "Whilst the police have indicated their view that the signage is not considered to be a significant contributory factor in the accident, they have drawn to our attention the fact that there is currently a lack of clarity regarding the intended use of this access."
The signage says the opening can only be used as an entrance or an exit by those towing boat trailers. This is to allow access to the QEII Marina slipway.
The spokesman said: "Despite road markings already being in place to prevent vehicles from exiting the main car park through this access, the results of a recent traffic survey have shown that some motorists are choosing to ignore these restrictions."
He said the change aimed to "reduce the potential for conflict" between motorists and those using the adjacent pavement, which is a mixed area for both pedestrians and cyclists.
The spokesman said the changes included permanent no entry and no exit signs with notes allowing those towing boat trailers, the redrawing of road markings and the "removal of signage implying access to recycling facilities".