Work begins next month on Guernsey's Perelle sea wall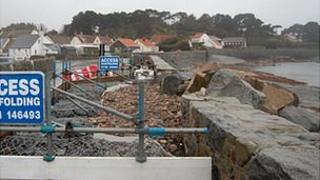 Work will begin next month on the damaged Perelle sea wall on Guernsey's west coast.
An Environment Department spokesman said it would take about eight weeks to repair the wall which collapsed with part of the road last year.
During the work Route de la Perelle will be closed between La Biloterie and Rue Perelle.
Deputy Roger Domaille, Environment Minister, said the repairs would start on 10 June.
He said: "It was important [the repair works] were undertaken during the least challenging weather conditions.
"The Environment Department is working to ensure these essential repairs cause as little inconvenience as possible to residents."
A spokesman for the department said it had written to all residents in the area to advise them of the work.
He said access to properties would be maintained, and pedestrians could use the coast road throughout the repairs.