Guernsey airline Aurigny considers larger planes for Gatwick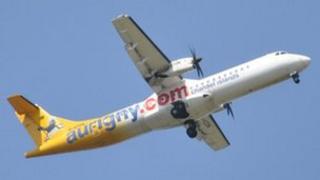 A Guernsey airline is considering using bigger planes after becoming the only operator to fly to Gatwick.
The Treasury and Resources Department is the sole shareholder in Aurigny and said it is considering leasing or buying aircraft outright.
This follows Flybe's announcement that is was selling arrival and departure slots at Gatwick airport.
Flybe managing director Mike Rutter said taxpayers would have to bear the brunt of increasing landing fees.
Mr Rutter says Aurigny will probably have no option but to pay rising charges to the airport.
Government subsidy
He said: "Aurigny has a very specific mission which is to safeguard the lifeline slots at London Gatwick, as a result of this they will continue to have increasingly punitive fees imposed on them.
"They do have the underpinning of subsidy from government which will help until that becomes unsustainable."
Jim French, Flybe chairman and chief executive, said the increase in costs at Gatwick meant that increasingly small airlines would be pushed out.
He said: "I'm afraid it's inevitable that high-frequency services from the UK's regions will ultimately be squeezed out of Gatwick, as they have been from Heathrow."
FlyBe sold its slots at the London airport to Easyjet for £20m, blaming an increase in airport charges.
The airline said it would continue all flights between the islands and other UK airports. It currently operates 34 flights per week to Gatwick from Guernsey.
One of Guernsey's biggest private employers, Specsavers, said the sale of the slots vindicates the States' decision to buy Aurigny to protect some of the island's London routes.
The Guernsey government purchased Aurigny in 2003 after British Airways pulled out of the island.