Guernsey children to get more help with bereavement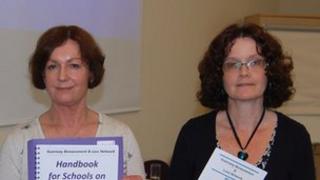 Teachers and child-carers in Guernsey are being given advice on how to help children cope with bereavement.
Information packs have been sent out to all the Bailiwick's schools, along with several pre-schools and youth groups.
These include staff action plans and a book written by a father and his three children after the death of the mother.
Amanda Evans, an advisory teacher at the Education Department, said: "If the school gets it right, it's much easier on the child."
"If they get it wrong, you're just compounding the child's loss and bereavement and the complete chaos that they're feeling at the time," she said.
Funding of £1,516 has been provided by the Channel Islands Christmas Lottery and the charity the Sunflower Trust towards the scheme.
Barbara Quesnel, a counsellor with the trust, said every child's response to the loss of a relative was different but specific strategies could nevertheless be very effective.
She said head teachers needed to be able to respond quickly and with confidence, which would include nominating the key people who would provide support for the child.
The decision to send out the packs was made by the Guernsey Bereavement and Loss Network after meeting with head teachers.