Dumfries registered Isla-S skipper fined £8,000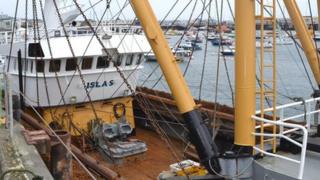 A Dumfries-registered fishing boat skipper has been found guilty of unlicensed fishing off Guernsey.
Guernsey's Sea Fisheries department said the skipper of the Scottish vessel, the Isla-S, was within the island's 12 nautical mile limit.
The skipper was fined £8,000 in the island's Royal Court on Monday.
The 36m (118ft) scallop dredger does not hold a licence to dredge for scallops in Bailiwick waters and was escorted into St Peter Port harbour.
A new licensing regime came into effect in February to control fishing around the Bailiwick's waters.
The BBC has been unable to contact vessel owner Saltire Seafoods for comment.
The fine was "higher than that levied earlier this year on another unlicensed vessel caught fishing in local waters, a spokesman for the Commerce and Employment Department's Sea Fisheries Section said.
He said the boat would be released once the fine was paid.
"It is hoped this result will again send a clear message the Bailiwick waters, out to 12 miles, are the subject of a clear regulatory regime and to fish commercially now requires a valid licence," said the spokesman.
"In the particular case of large scale scalloping, [which is] now not allowed anywhere in local waters, aims to protect the environment from excessive damage to the sea bed arising from dredging activity."