Guernsey cyclists 'damaging' nature reserve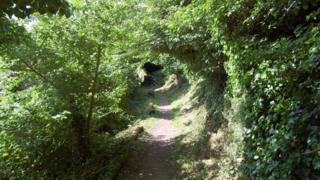 Cyclists are damaging a nature reserve by using a route made for walkers only, according to Guernsey Water.
The Millennium Walk was set up by the company at the St Saviours reservoir 12 years ago.
Cyclists are banned from using the 3km trail due to the risk they pose to nesting birds.
Andrew Redhead from Guernsey Water said: "It is important that people recognise that the walk is a nature reserve first and foremost."
The walk is monitored and maintained by Environment Guernsey, an arm of La Societe Guernesiaise, on behalf of Guernsey Water.
Mr Redhead said: "Cyclists using the walk can create problems for a number of reasons.
"There is a danger of a collision between a cyclist and a walker; cycling cuts up the path and makes it messier, especially in bad weather; and cyclists disturb the wildlife, particularly nesting birds."
He said he hoped cyclists using the walk would stop before the company had to take further action.
The St Saviours reservoir has developed into an important local site for nature conservation. The reservoir is also Guernsey's largest area of freshwater.
The reservoir and the surrounding woodland support a wide range of bird species, plants, insects and fungi.
It is estimated that about 60,000 people use the Millennium Walk every year.