Sir Isaac Brock statue project finds major sponsor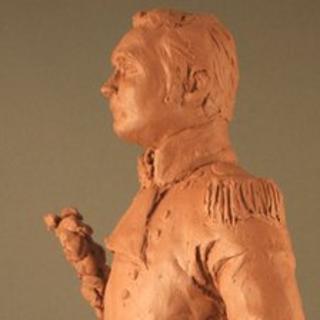 A project to erect a statue of Sir Isaac Brock in St Peter Port has moved a step closer after a main corporate sponsor was identified.
The Brock Memorial Foundation has commissioned Canadian sculptor Adrienne Alison to produce a 7ft 6in (2.3m) figure of the Guernsey born general.
Planning permission will soon be sought after RBC Wealth Management offered to pay part of the estimated £80,000 cost.
Brock died defending Canada at the Battle of Queenston Heights in 1812.
His victory over invading United States forces at the Battle of Detroit earlier that year - fighting alongside the Native American warrior Tecumseh - is seen by historians as having galvanised British North American troops and inhabitants as a defensive force at the outset of the War of 1812.
The plan to erect the bronze statue on a plinth outside the town market is one of three being undertaken by the Brock Memorial Foundation - a charity set up by distant relative Oliver Brock.
'Jigsaw puzzle'
He also hopes to arrange for an annual exchange of Bailiwick and Canadian cadets.
From next year, a cadet from the Alderney Cadet Force and one from the Elizabeth College Combined Cadet Force would be able to travel to Canada on a three-week exchange.
Two army cadets from the Lincoln and Welland Regiment would travel to the islands.
Mr Brock also hopes to provide funds for the restoration of desecrated and neglected Native American grave markers at Walpole Island in western Ontario.
He said the task amounted to "a giant jigsaw puzzle" which would require a lot of work.
Ms Alison will travel to Guernsey at the end of May with a maquette - or scale model - of her statue, which will be used to produce the planning application.
The Brock Memorial Foundation was set up last year to arrange the Guernsey commemorations of the 200th anniversary of Brock's death on 13 October, 1812.