Guernsey hospital art sales fund cancer image system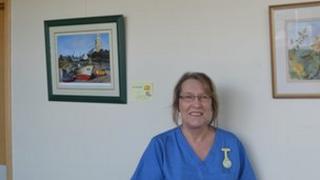 Bowel cancer screening software is to be bought with funds raised by an art exhibition at Guernsey's Princess Elizabeth Hospital (PEH).
Following an appeal for paintings kept in islanders' attics, an eclectic collection initially went on display at the Coach House Gallery.
A total of £2,800 was raised through sales before the remaining artworks were moved to the PEH Day Patient Unit.
More have since been sold, helping to fund the archiving of endoscopy images.
The money will be invested in an endoscopy management and image filing system known as Endobase.
Jean Gomes, a trustee of the Guernsey Bowel Cancer Awareness charity and a staff nurse at the unit, said she hoped the exhibition would continue for a few more weeks.
The unit's staff room was being used as storage for additional paintings to replace those being sold.
Ms Gomes said the exhibition served to brighten the previously empty corridors for patients, as well as raising funds and increasing awareness of bowel cancer.
The original idea for forming the collection came from surgeon Carol Makin, who found she had more paintings than wall space, after having moved to live in the island.