Fined Guernsey restaurateur in food hygiene feedback call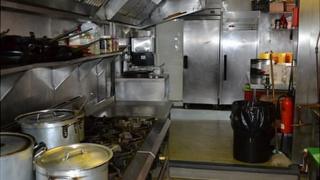 A Guernsey restaurateur has called for more feedback from environmental health inspectors after being fined for food hygiene offences.
The owners of the Indian Cottage and the Sitar Restaurant were fined £22,000 after pleading guilty to 10 offences.
Nur Miah, co-owner of both, said no issues had been raised at earlier inspections so it came as a shock.
Val Cameron, director of environmental health and pollution, said advice and support was available for businesses.
Voluntarily closed
She said: "The frequency of inspection depends on the risk that they pose to the public - the higher the risk the more often the inspection."
Mrs Cameron said the inspectors visited about 700 places where food was served and this included the island's restaurants, of which there were a few hundred.
Both businesses closed for a week following inspections carried out at the start of October, when mouse droppings, uncovered raw chicken and a lack of cleaning were discovered.
An Environmental Health spokesman said they had voluntarily closed and were allowed to reopen having cooperated fully and rectified the issues.
'Deteriorate so quickly'
Mr Miah, who admitted the offences at Guernsey Magistrates' Court, said no issues had been raised at an inspection of the Indian Cottage just five months earlier and he was given no feedback on any actual or potential problems.
He said while it was the owners' responsibility to look after the property, inspections should be every three months and inspectors should offer more advice on issues that could become potential problems.
Mrs Cameron said: "We do provide a lot of advice and support, I would say 95% of our work is in the advice and education and training for staff.
"Food premises can deteriorate very quickly and especially a pest infestation can happen really quickly as well so it's really important food premises operators are really vigilant."
However, she added it was an "unusual occurrence for them to deteriorate so quickly".