Guernsey States-owned Aurigny 'can cover Gatwick route'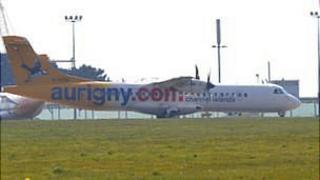 Any loss of routes between Guernsey and Gatwick Airport can be covered by States-owned airline Aurigny, a Treasury Department spokesman has said.
It follows news Flybe could sell its Gatwick slots, leaving just Aurigny operating between the island and the London airport.
In 2003 the States bought Aurigny for about £5m, partly to ensure the link.
The spokesman said the department was committed to ensuring there was "sufficient capacity" on the route.
'Larger aircraft'
He said the airline, of which the Treasury Department holds the shares on behalf of the States, currently provided half of the market on the route with Flybe supplying the other half.
The spokesman said: "There are a variety of options that could be pursued in the short and longer term, involving either additional slots or the operation of larger aircraft.
"The department understands that additional slots are already available at Gatwick Airport should this be necessary."
Deputy Paul Luxon, Public Services Minister and chairman of the External Transport Group, said it was an important service "for social reasons for people on the island, but more importantly for our international finance sector and business links".
In 2003, the States agreed to purchase Aurigny Air Services, which includes the airline and an engineering firm, to ensure the service previously operated by British Airways continued.
The spokesman said the "strategic investment" was aimed at "protecting the island's long-term social and economic sustainability by securing access to a London hub airport".
In 2010, the airline was put up for sale before being withdrawn after concerns surfaced that slots at Gatwick could not guaranteed if a sale went ahead.