Condor Ferries cancels services due to engine damage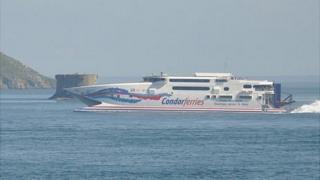 Damage to an engine in one of Condor Ferries' fast ferries has led to the cancellation of services.
Sailings scheduled between the Channel Islands and Poole on 17, 18 and 20 May are affected.
The company said Condor Express needed to be taken out of the water to repair cracks in one of its engines caused by debris floating in the sea.
Sailings on Monday have also been rescheduled due to the vessel operating on just two of its four engines.
James Fulford, chief executive officer, said: "The three fast ferries we have are now over 15 years old so they're are getting towards the second half of their life, so they are prone to problems from time to time."
However, he added the latest fault "could have happened to a brand new vessel."
Mr Fulford said it appeared a railway sleeper had entered the jet tube on the outer starboard engine and damaged the impellor and gearbox.