Guernsey Liberation Day events curtailed by strong wind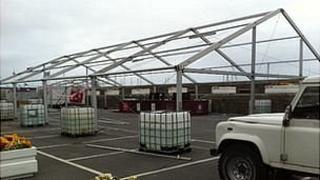 The majority of the evening events planned in St Peter Port to celebrate Guernsey's Liberation Day have been cancelled because of strong winds.
Various attractions were planned to mark 68 years since the end of the German occupation of the island during World War II.
Organisers said the decision was due to "very high prevailing winds due to reach force nine".
They said a concert and fireworks were the only events still going ahead.
However, they said both would be reviewed throughout the evening.
Alex Bridle, from the Guernsey Event Company, said the marquees and tents on the Albert and Crown Pier had been taken down.
She said if they were blown free they could cause serious damage to the public and to the yachts in the harbours next to the piers.
Thousands of people visited St Peter Port during the day to watch events including the church parade and cavalcade.