Two men jailed for importing fentanyl into Guernsey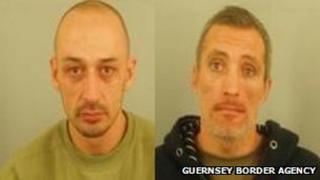 Two men have been jailed for importing fentanyl patches, a potent painkilling drug into Guernsey.
Constantin Marian Armega, 37, and Cristian Razvan Bulfinsky, 31, were each sentenced to four and a half years in prison in Guernsey's Royal Court.
A spokesman for Guernsey's Community Drug and Alcohol Team said fentanyl patches were becoming increasingly popular among drug users.
He said it had been linked to a number of sudden deaths in Guernsey.
Fentanyl is a Class A controlled drug in Guernsey and is usually given to people experiencing chronic pain, but it is used by drug users as an alternative to heroin.
'Stricter sentences'
Judge Russell Finch recommended the Romanian nationals for deportation by the Lieutenant Governor due to their lack of ties to the island.
On 29 October, Armega, a professional boxer, and Bulfinsky, a bartender, were stopped as they got off a ferry.
Armega was found to be carrying 39 fentanyl patches and Bulfinsky had one, with a total street value of £12,000.
Geraldine O'Riordan, a prescribing advisor, said: "Whilst fentanyl remains a very useful drug for patients with severe pain and those receiving end-of-life care, it is important it is used wisely.
"We have produced guidelines on its use, run workshops and arranged meetings for prescribers.
"Between January 2011 and January 2013 the number of prescriptions for fentanyl dispensed fell by 20% and prescribing of the highest strength patch fell by 60%."