Profits and jobs in Guernsey hit by loss of VAT relief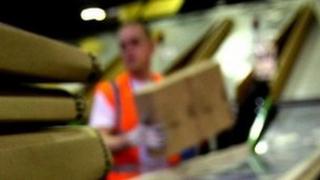 Businesses in Guernsey say they have been hit by the loss of VAT relief for firms selling to the UK.
Jobs have been lost and businesses reported reduced trading.
Guernsey Post said it had lost seven top customers and £16m in revenue and shed 29 jobs since the end of Low Value Consignment Relief (LVCR) a year ago.
Louis Jean, a member of the States of Alderney, said the scrapping of LVCR had contributed to falling population figures.
He said: "Low Value Consignment Relief caused some people to move out.
"Even to Alderney, when three or four families with children move away that affects the school roll and the number of people living on the island."
LVCR allowed goods costing under £15, such as CDs and DVDs, to be sold VAT-free to the UK from the Channel Islands.
It was introduced by the UK Treasury in 1983 to help speed up the transit of low-value goods, which may have otherwise been delayed by customs.
Guernsey and Jersey's governments took legal action in the High Court to challenge the decision to scrap it, but failed.
'Cheap imports'
Paul Domaille, managing director of Classic Flowers, said growth was stagnant since LVCR was withdrawn.
He said while at first his company tried to absorb the added costs, it could not compete against cheap international imports.
He said: "It would be nice to see a wider variety of flowers grown locally to keep the money in the island."
Peter Gill, Guernsey's Harbour Master, said the freight industry had suffered.
He said: "The commercial shipping operators have reported a significant reduction in freight volumes which is directly attributable to LVCR.
"Harbour income is largely determined by the freight volumes... LVCR was a small but useful contributor to that."
However Guernsey's social security minister, Deputy Allister Langlois, said LVCR measure had had little effect on the island's unemployment numbers.
He said: "Fortunately, we have seen very few people needing to claim unemployment benefit as a result of the loss of LVCR.
"Even immediately following the closure of some operations, we believe that there were never more than 20 people from that sector claiming unemployment benefit.
"Although the numbers are small, that is not to dismiss the serious impact on the individuals who did lose their jobs and may have struggled to find alternative work."