Guernsey bus consultation extended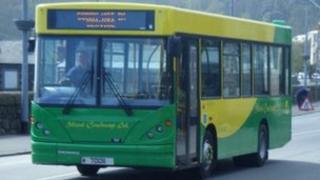 A consultation into Guernsey bus routes has been extended by a week after a new route was proposed by the operator.
CT Plus said the new route 111 would cover the west coast from L'Eree to L'Islet, and onto the Bridge via Freesia Centre and Braye Crossroads.
But it would mean removing one of the other proposed new routes.
Islanders have until 4 April to take part in the consultation by the Environment Department, and CT Plus hopes to make the changes on 13 May.
Guernsey's Bus Users Group will meet on Saturday to discuss the proposed changes to the island's bus routes, timetables and fare structures.
'Finite resources'
Camilla Poole from CT Plus Guernsey said the new route 111 would ensure areas of the west coast get a dedicated bus service.
"There is a finite amount of resources - which means a more frequent service in one place leads to a less frequent service somewhere else," she said.
"We want to get the balance right between putting on services based on actual patterns of travel and ensuring that communities are not isolated."
A spokesman for the Environment Department said, in light of recent calls to engage in a longer period of consultation, it has decided to extend the closing period by one week.