Bailiwick of Guernsey's German tunnels documented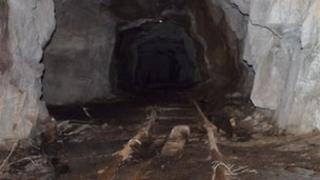 Previously unprinted information on German tunnels in the Bailiwick of Guernsey has been released.
Preservation group Festung Guernsey has published a book on tunnels in Guernsey, Alderney and Sark, using documents and press archives.
Detailed plans of the shelters built by German occupying forces in the 1940s are contained in the 300-page volume.
Paul Bourgaize of Festung Guernsey said: "We've managed to find... press cuttings relating to certain tunnels."
He added that these related to collapses and incidents, which helped build up a history of each specific shelter.
Tunnels were excavated across the islands during the German occupation, with some having been sealed off since.
Many of the tunnel networks in Alderney remain untouched and open to the public, while most in Guernsey have been turned into museums or have been closed off for safety reasons.
Mr Bourgaize said the book, entitled "German tunnels in Guernsey, Alderney and Sark" was aimed at local historians and occupation enthusiasts.
He said: "The text in the book is by Ernie Gavet, he was climbing in and out of bunkers from the time he was at school many years ago."
"More recently Festung Guernsey carried out an update, we went out researching tunnels that hadn't been entered and surveying them."