Guernsey Airport opens after snow chaos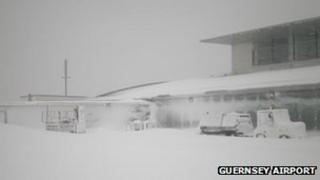 Guernsey's Airport was shut until mid-afternoon on Wednesday while more than 15,000 tonnes of snow were removed from the runway.
It follows closures on Monday and Tuesday due to heavy snowfall.
Airport managers said vacated parking stands were cleared of snow and they began receiving arrivals at 16:30 GMT.
All Guernsey schools closed for the day and the Heath Department cancelled all non-urgent operations and elective surgery before 11:00.
Trees down
Only one school in the entire Bailiwck was open: St Anne's School in Alderney.
The Education Department said all schools and grant-aided colleges were due to open as normal on Thursday.
However, it added that it was aware conditions on some minor roads could remain dangerous and parents should use their discretion when considering whether children should attend.
Despite a partial thaw overnight, after two days of heavy snow some areas in the upper parishes remained hazardous during Wednesday morning.
Traffic Sgt John Tostevin said officers, States Works and tree surgeons were working to open the remaining roads and remove fallen trees.
He said: "There have been 65 trees down, which has got to be a record, but we're working with tree surgeons and hopefully should be cleared today."
He said there had been a number of minor accidents and cars crushed by trees, but there had been no injuries.
A reduced bus services is running with details on the Guernsey bus website.