Alderney Wildlife Trust expands puffin webcam project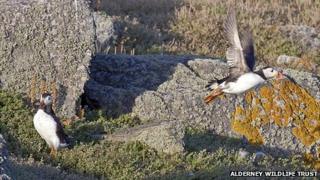 A group of ecologists is hoping to offer school children an "unprecedented opportunity" to observe sea birds in their natural habitat.
This month 175 pairs of Atlantic puffins are expected to return to the island of Burhou to raise their young.
They will live there for a few months before returning to the sea.
The Alderney Wildlife Trust hopes to use technology to relay the puffins' stories to school children.
The trust and the South East Grid for Learning Associates are working together to get schools in the south east of England and the Channel Islands involved.
Roland Gauvain, the trust's manager, said: "Living Islands Live is a ground-breaking project that uses modern technology to bring the natural world outside in to the primary classroom."
He said this would include live video streams, close up video clips, written reports from the ecologists and the chance to quiz experts in person.
The trust has had webcams on Burhou, 2km north west of Alderney, for the past four years and in 2012 set up infra-red cameras to watch puffins in the day and storm petrels at night.
Previously the trust and grid have worked together on making use of the feeds in the schools' curriculums.