Archway 'made safe', says National Trust of Guernsey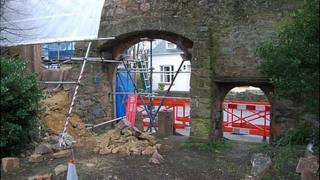 An archway has been made safe while the National Trust of Guernsey applies for permission to rebuild it.
A small section of the archway, on the Rue Cohu near Saumarez Park, has fallen down.
President Martin Ozanne said: "It has been a very wet period and water has, we assume, got into the old clay."
He said other stones had been taken down "to make sure the rest of the arch is safe and isn't going to fall on to the pavement and injure someone".
Mr Ozanne said the archway was built 350 to 400 years ago at the main entrance to the Blanc Bois Estate, which was a "large important house and estate".
It has since been replaced by a housing estate.
Mr Ozanne said the main arch was used for horses and traps, while there was a smaller one for pedestrians.
He said the listed building was gifted to the trust in 2003 and the aim was to restore it using traditional methods and materials with all the stones being numbered to ensure they were put back exactly as they were.
Mr Ozanne said there was only one other similar example in the island - the Ivy Gates in the Rohais, St Peter Port.
The trust is talking to insurers about covering the cost of the work.