Deep-water berth plans for Guernsey 'essential'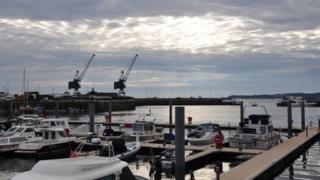 A deep-water berth at St Sampson's should be a priority under plans for the future of Guernsey's harbours, it has been claimed.
Peter Derham, president of Guernsey Boatowners Association, said it would allow access for fuel tankers and cargo containers.
It would also relieve pressure on other port users.
Mr Derham described it as a "hugely expensive but essential" aspect of the Ports Master Plan.
Currently some ships carrying freight have to rest on the seabed in the harbours when the tide is out.
A deep water berth also has the support of the Commercial Port Users Group.
"It makes so much sense to have a deep-water berth," Mr Derham told BBC News.
"If St Peter Port can develop without having the lift-on, lift-off there, it's going to make it easier for leisure boats and everything else.
"Also at St Sampson's harbour it means we're not going to be competing against the larger vessels for the use of the inner harbour."