Guernsey WWII heroine Marie Ozanne blue plaque unveiled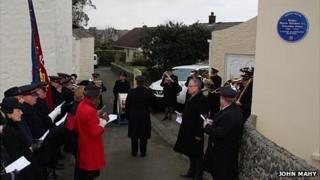 A woman who protested against the treatment of slave labourers during World War II has been hailed as "an inspiration" by Guernsey's Bailiff.
Richard Collas was speaking as he unveiled a blue plaque on the former home of Marie Ozanne.
Miss Ozanne, a major in the Salvation Army, publicly protested about the treatment of labourers on the island.
For her actions she was was imprisoned, but died shortly after her release in 1943.
Mr Collas said: "This extraordinary lady, whose strength of spirit, generosity of heart and Christian principles, made a significant contribution to this island, to islanders and indeed to people beyond our shores.
"She continues to be an inspiration and an example through the life that she led and what she did."
He thanked the Salvationists and members of the Ozanne family who had helped to sponsor the plaque, which was built on a house in Dehus Lane, in the Vale.
It was the fourth to be unveiled in the island, under a scheme begun by the Guernsey Museums.
Miss Ozanne was awarded the Salvation Army's highest honour, the Order of the Founder, in 1947.