Guernsey Airport shut over wet paint concerns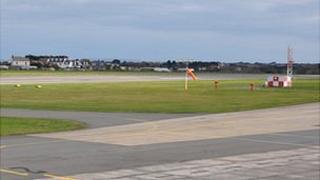 Concerns over wet paint on the runway shut Guernsey Airport for 30 minutes, the airport director said.
Colin Le Ray said the closure between 08:30-09:00 GMT was a precaution while investigations took place after "one or two wheel marks" were discovered.
He said they checked the paint on the runway and also examined the planes that had landed in case they had picked up any paint.
The runway surface is being replaced under an £80m refurbishment project.
Mr Le Ray said: "As the runway is being resurfaced over a period of time obviously we're not putting permanent paint markings down so we're putting temporary paint markings down as and when they fade."
He said the painting was completed at 03:00 GMT but did not dry as had been anticipated.
Mr Le Ray said of the project: "We're about three quarters of the way down the length of the runway doing strengthening and regulating, which is taking out the humps and dips and also putting some strength into the surface.
"We hope that work will be completed towards Easter and then we start with the final layers of the runway in the summer months."