Grass stops sand blowing into Guernsey homes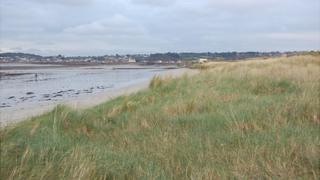 A project to stop sand being blown into west coast homes in Guernsey has been hailed a success by La Societe Guernesiaise's conservation officer.
Jamie Hooper said previously when sand built up it was just moved down the beach, which meant it always returned.
He said fencing and encouraging maram grass, which helps to hold sand dunes together, after it was found growing in the area had stabilized the dunes.
Mr Hooper said it provided a long-term natural solution to the problem.
Benefits wildlife
He said: "Ten years ago the problem of wind-blown sand here came to a real head.
"The answer with sand blowing up against the wall and into the road and houses was to remove it every year or so.
"With diggers and lorries, take it back down to the low tide and then wait for it to come back. That's not really a solution."
Mr Hooper said there was still work to be done. "There are one or two spots over by the kiosk which are prone to exceptional weather... but we're nearly there."
He said the grass also benefitted local wildlife by providing seeds for some birds and attracting butterflies in the summer.
Mr Hooper said maram grass would be planted at Grandes Rocques and Port Soif to "shore up the softer coastal defences" and they were looking at possibly encouraging it to grow elsewhere.