Guernsey roadwork co-ordination planned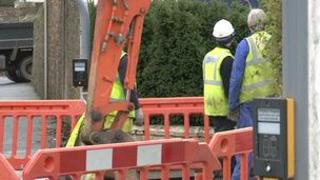 Utility companies in Guernsey will have to co-ordinate their road closures, according to the environment minister.
The changes apply to gas, electricity, water and telecom companies and will come in from March.
Deputy Roger Domaille said the companies would have to justify any future roadwork.
He said road closures will always be necessary but motorists should find they are better planned under the new rules.
The environment department said it receives about 2,000 applications for road closures each year.
Deputy Domaille said the department wanted to reduce the impact of road closures on bus routes and so more detail will be required before long-term closures are authorised.
He said: "It is a question of some minor changes will add together to make some significant changes.
"Everyone gets irritated with roadworks and what we are trying to do is get people more notice, more communication and a bit more co-ordination between them."
The utility companies and the public services department will also have to give a quarterly report on emergency closures.